Custom Pool Building Contractor in Graham, TX
Your local Outdoor Living Space & Pool Experts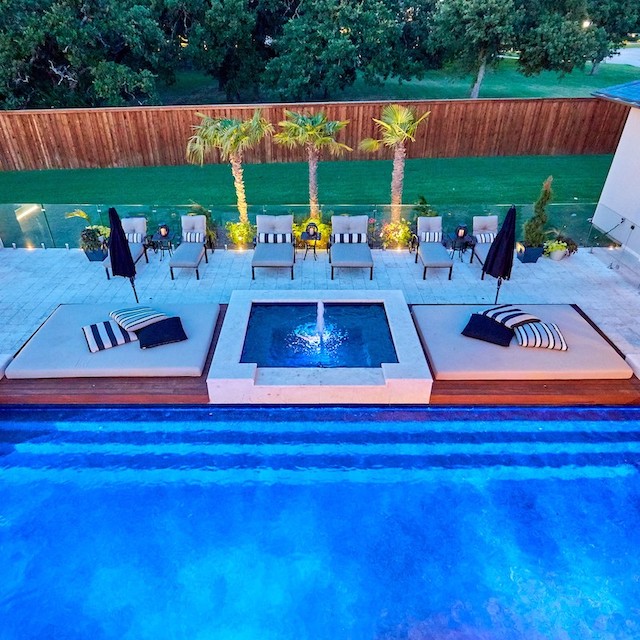 The custom pool builder team at J. Caldwell Custom Pools works with residents in Graham, TX to make pool and backyard area dreams come true. We specialize in anything from elite pool designs for straight line and freeform pools to infinity pools and many other builds. We work with homeowners to bring the vision for your pool and yard to life. Our techs build backyard grills, patios, fire features, waterfalls, and spas.
Dial (817) 237-7665 now to set the next available consultation appointment to discuss your pool and outdoor living space project!
Superior Custom Pool Builder Installation Services
Finding the best contractor with the right training is vital when building a pool or outdoor kitchen.
You want a custom pool builder company with a good track record to give you the highest return on your investment. Ensure that your pool looks incredible and performs at a high level for years with a team that's committed to quality. [Company] sources the best and latest pool equipment and components with each of our pools. We also leverage an extensive supplier and partner network to make sure you get the best prices in the area.
Our ability to deliver value is what sets us apart. As a local service provider with decades of experience with the pool and outdoor living space business, we know what homeowners in Graham, TX expect.
Exceeding client expectations with every project is our goal. When you contact us, we dispatch an expert pool designer to your home to discuss your vision and talk to you about your goals for your property. Then, we'll get to working on a custom design that will make your pool or yard the gathering spot for friends or family you've always dreamed of.
To hear more about why so many local homeowners select J. Caldwell Custom Pools, call (817) 237-7665 today! Our squad is excited to get going or answer any of your questions about the process. In no time you'll start relaxing in your awesome new backyard!