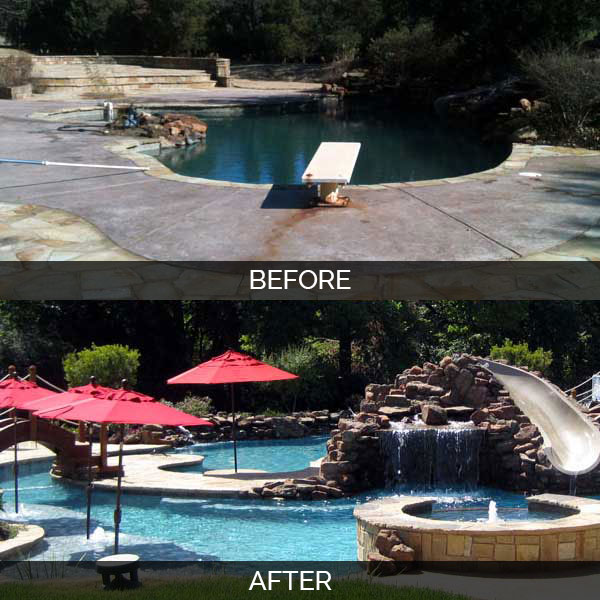 Transform Your Older Pool into Something Great
Are you dealing with a drab pool that's seen better days? Perhaps you're buying a new property with an older pool and are thinking about an upgrade. Whatever the case, when it comes to pool renovation, J. Caldwell Custom Pools is the premier renovation specialist in the area. We offer superior quality products and a variety of custom pool designs. Re-imagining existing pools is our passion, our team has spent years working on every type of pool. We will transform your pool with an amazing custom design that creates a new modern pool that you can be proud of. Contact us today at (817) 237-7665 or by clicking on the link below to notify our professional pool remodeling experts.
Our Pool Remodeling Process
Pools need regular maintenance to stay in top condition. After a while, though, pools can start looking a bit out of date and run into maintenance issues. At J. Caldwell Custom Pools, we offer the following pool remodeling services:
Tile & Coping Design/Replacement
Updating/Replacing Pool Automation
Updating/Replacing Pool Equipment
Lighting Upgrades
Multiple Pool Interior Replacement Options
Water feature Updates & Installation
Deck Removals & Replacement
We can help you work with what you have to make a fantastic pool that you'll love looking at every day. When you call us at (817) 237-7665, we'll send a team to your home to look at your pool and talk to you about your goals. We'll find out what you want and start creating custom plans to make it happen.
Our Commitment to Customer Service
We're a local business that has spent years helping homeowners in the area with pool remodeling and new pool construction. Our clients trust us because we deliver high-quality results at great prices on every project. All this is done with a focus on customer service and attention to detail that our competitors can't beat!
Get the best for your pool and your property with professional pool remodeling services in Fort Worth, TX. J. Caldwell Custom Pools is the leading pool service provider and we're ready to make your pool look great.
Call us today at (817) 237-7665 to schedule an appointment!