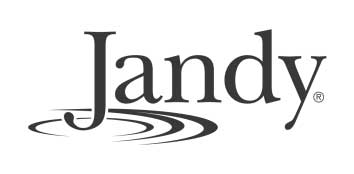 JANDY VERSA PLUMB® SYSTEM
Equipment that works together to save you more! The Versa Plumb System delivers the highest energy efficiency.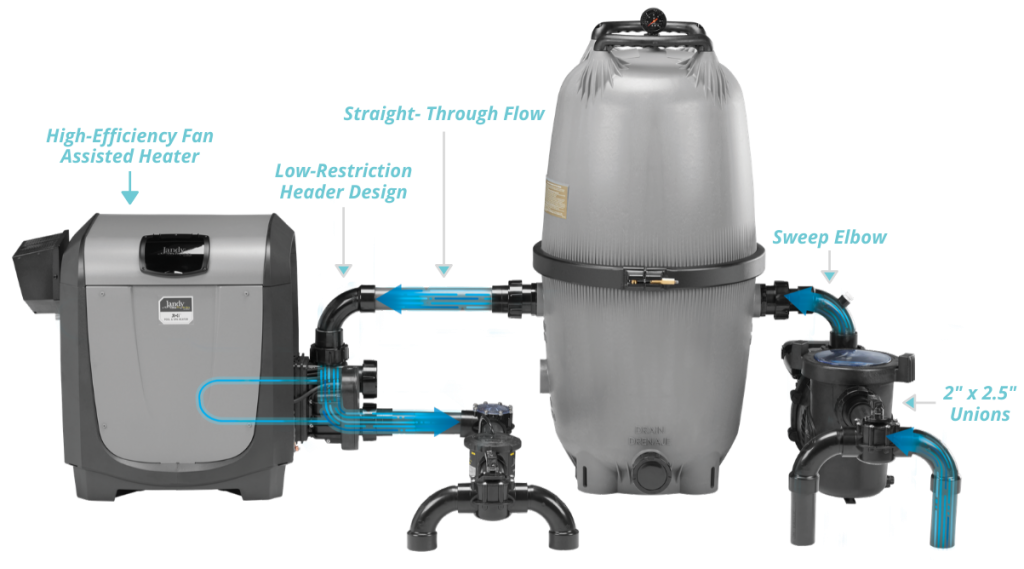 50% MORE HYDRAULIC EFFICIENCY*

Reduces hydraulic resistance by up to 50% versus other equipment sets in its class.

USES LESS HORSEPOWER

Increased hydraulic efficiency allows for up to a 1/2 HP smaller pump to achieve the same level of flow, resulting in greater energy savings.

50% LESS PLUMBING PIPE

Innovative system design requires 50% less plumbing pipe and fittings, while increasing hydraulic efficiency.
*Comparison is between Jandy Versa Plumb System using a Jandy Pump, Versa Plumb Filter, LXi™ Heater, AquaPure® Salt System, and NeverLube® Valves with sweep elbows versus competitors' equipment using comparable pump, filter, heater, sanitizer and valves
JXi™ POOL & SPA GAS HEATER WITH AVAILABLE VERSAFLO™ INTEGRATED BYPASS FOR MAXIMUM HYDRAULIC AND ENERGY EFFICIENCY
The Total Package
The JXi™ heater sets the standard in pool and spa heating technology with its ultra-compact size, lightweight design and energy-efficient options that save on electrical costs. Providing extreme installation flexibility, this high-efficiency, low-NOx heater is a top choice for pool professionals and pool owners everywhere and is available in both natural and propane gas models.
LEARN MORE
WATERCOLORS NICHELESS LED LIGHTS WITH HYDROCOOL™ TECHNOLOGY
Jandy's HydroCool lights feature an innovative, energy-efficient design that harnesses the cooling power of water to create a cooler-running, longer-lasting* light. Designed to fit in a standard 1-1/2" return fitting, these lights are smaller to accommodate complex pool designs and operate at lower wattages, while providing the same brilliant illumination as previous models.
*Based on internal testing
LEARN MORE
CV SERIES CARTRIDGE FILTER
The CV Series Cartridge Filter is designed to take advantage of the filter's total surface area, providing clear, clean water and extended cleaning cycles. The new CV filter is engineered to work more efficiently with other Jandy products when used in the Versa Plumb System.
LEARN MORE
ePUMP™ VARIABLE-SPEED PUMP
The Stealth™ ePump's eight variable speeds and high-efficiency motor make it the quietest and most efficient pump available, saving a tremendous amount on energy costs.
LEARN MORE


POOL CONTROL IN THE PALM OF YOUR HAND
Equipment that works together to save you more! The Versa Plumb System delivers the highest energy efficiency.
Remotely control pool and spa features anytime, anywhere from any internet-connected smartphone or tablet via the free iAquaLink app. The industry's highest-rated pool control app, iAquaLink can be used alone, or combined with the complete line of wall-mounted or wireless AquaLink interfaces.
LEARN MORE

POLARIS QUATTRO™ SPORT PRESSURE-SIDE CLEANER
Designed to devour debris, the Polaris Quattro Sport aggressively climbs walls and brushes the waterline. Powered by a booster pump, this pressure-side cleaner features an extra-large debris intake, dual-stage filtration canister and is ideal for all in-ground pool surfaces.
LEARN MORE
POLARIS 3900 SPORT PRESSURE-SIDE CLEANER
The new and improved Polaris 3900 Sport delivers unmatched vacuum power, incomparable convenience and legendary performance.
LEARN MORE
POLARIS 280 PRESSURE-SIDE CLEANER
The Polaris 280 easily connects to a dedicated pressure line and sweeps, scrubs and vacuums all surfaces of the pool. The pressure cleaner is equipped with a single-chamber filter bag where it captures small and large debris such as leaves, acorns, pebbles and dirt. Its unique filter bag removes debris before it reaches your pump basket or filter, prolonging the life of your filtration system.
LEARN MORE
Whatever pool equipment needs you have in Fort Worth, TX, J. Caldwell Custom Pools is here to help! We have years of experience working with every type of pool, and we're confident we can provide the best pool service.
Call us now at (817) 237-7665 to schedule an appointment or talk to us about your equipment options.