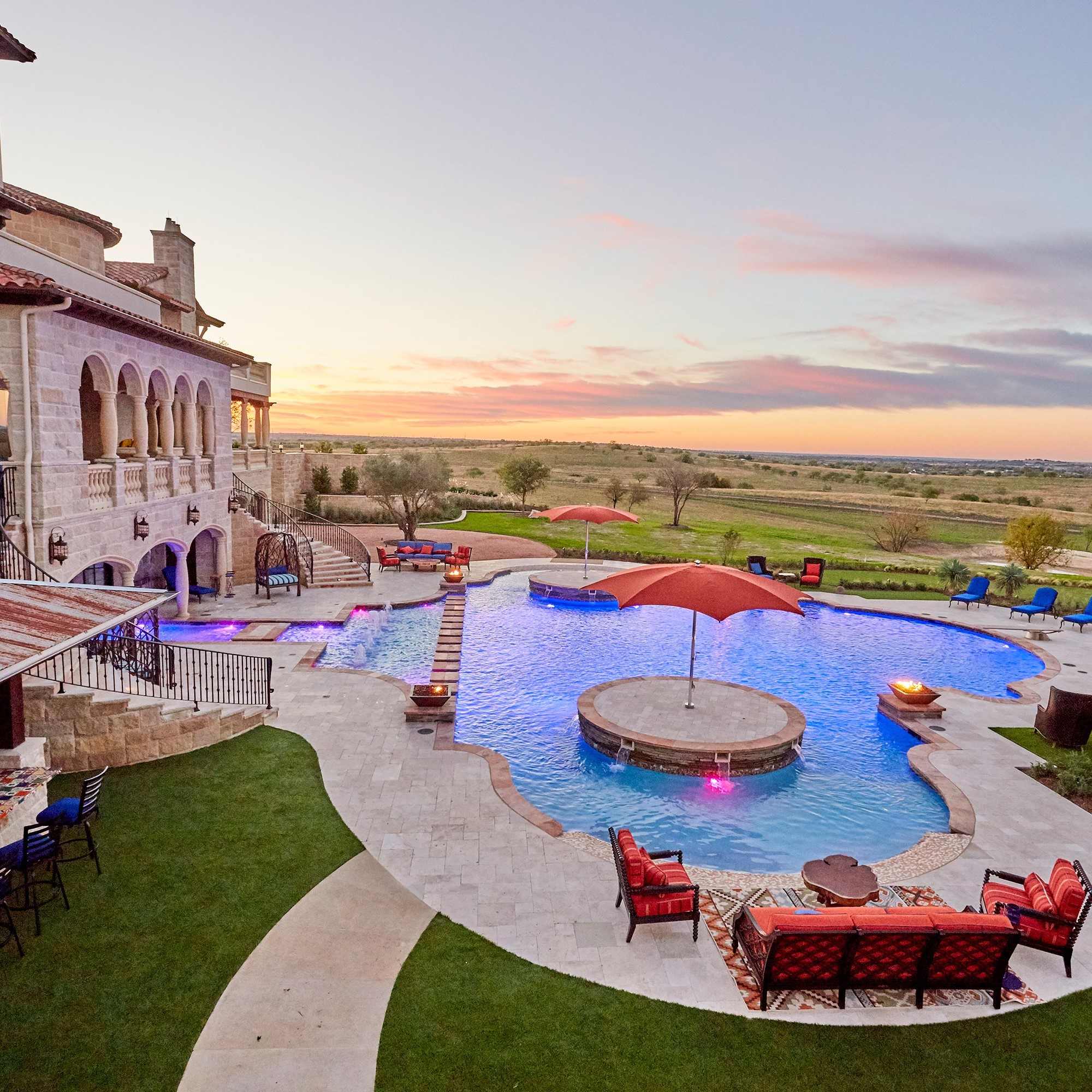 The Most Extensive Pool Portfolio in the Region
We can create a pool design that accomplishes your vision of what you want for your outdoor living space. We've invested time and resources into training our team to be the best. Our pool technicians will work with you on a full range of pool installation, repair, renovation options, and the rest of our portfolio that add to your property and make your yard a place for friends and family to gather all year. As the preferred custom pool builder in Fort Worth, TX, J. Caldwell Custom Pools knows what homeowners in the area expect, and we've developed a comprehensive pool portfolio to meet your needs. We're also constantly pushing the boundaries of what's possible with pools with the latest in pool technology and innovation.
Contact us today at (817) 237-7665 to make an appointment for a pool consultation or to speak to us about any of our services!
Custom Pool Builder & Outdoor Living Portfolio
We want to be the pool contractor you trust to manage all aspects of your pool and backyard living space. To accomplish this, we've set out to create a team with the skills and experience to deliver incredible custom designs at fantastic prices. We provide the following services:
Freeform Pools – If your style preferences or your property characteristics favor a freeform pool, we've got you covered. We can install, repair, and maintain a wide variety of pool shapes that take advantage of your yard layout or create a certain aesthetic for your property. We build circular pools, crescent pools, and several other shapes that look amazing.
Straight Line Pools – The most traditional pool shape, straight line pools are classic and offer a luxury feel for homeowners. They're also often easier to maintain and repair. We have the highest-quality materials and features for your pool choice.
Fire Features – What's better than gazing at the fire on a cushioned bench as you watch the kids swim in the pool during the evening? It's certainly tough to beat. We offer all of our clients the option to build luxury fire features into backyard spaces.
Outdoor Kitchens – Spend time grilling and prepping dinner outside while your friends and family enjoy the pool. We design and install exquisite outdoor kitchens.
Spas & Fountains – A lot of homeowners are installing spas, fountains, and other water features to create a peaceful ambiance at home. Talk to us about how we can design a unique fountain experience for you.
Arbors & Cabanas – Create a lovely shaded area next to your pool with a custom arbor or cabana.
Call (817) 237-7665 now to set an appointment for a pool or outdoor living space consultation! Connect with us for your reliable custom pool builder in Fort Worth, TX.